Truss gives drop of support for bore plan on the block

Print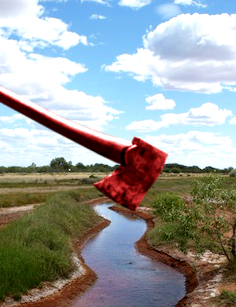 The man who started an important bore capping and water-saving scheme appears slightly less supportive 15 years on.
Deputy Prime Minister Warren Truss says he will soon make an announcement about Great Artesian Basin Sustainability Initiative (GABSI), as many farmers wait to hear if the government will continue helping with their water worries.
GABSI is a bore-capping and pipe-laying water conservation project, which has saved about 200,000 megalitres of water each year.
The GABSI project was originally set up by the National Party and launched by Mr Truss back in 1999, when he was the Agriculture Minister.
Now as the leader of the National Party and Deputy Prime Minster, Truss is facing accusations that the scheme he started, will be cut before it is complete.
When asked about GABSI on a weekend visit to Birdsville and Thargomindah in Queensland's remote south-west Mr Truss agreed that it was valuable, but the Government is still looking for funds to continue it.
He indicated that the only way to keep GABSI going would be to cut money from elsewhere, but assured farmers that "positive announcements" would be made about the future of the program "shortly".