Water funds flow

Print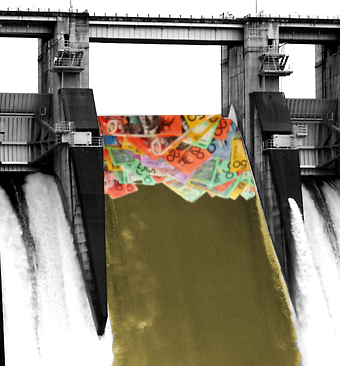 The Federal Budget commits $2 billion to water infrastructure.
The Government has scrapped the National Water Infrastructure loans facility, opening up $2 billion of new funding for the National Water Infrastructure Development Fund.
The fund will be used to fast-tracks projects like dams, weirs, pipelines, and water recycling plants by helping states and territories pay for them.
The Coalition has a 10-year plan for the National Water Grid Authority to find projects that will help secure water supplies.
The Budget papers include $50 million for an on-farm emergency water rebate scheme, which will provide farmers with up to $25,000 in rebates if they clean dams and drill bores. The funding is contingent on being matched by the states.
But while some drought measures are being pushed to the forefront, the Government has abandoned the Water for Fodder program.
In an announcement in December last year, the government said Water for Fodder would spend $100 million on having Adelaide's desalination plant produce water, so that water upstream could be made available to irrigators in the southern Murray-Darling Basin.
The Budget papers show almost $50 million was spent on the first round of the program, expected to deliver 40 gigalitres.
That scheme now appears to be over.
There is also $250 million to be invested in the Bureau of Meteorology's forecast and warning service.