Water worries and gas calls for NSW Nationals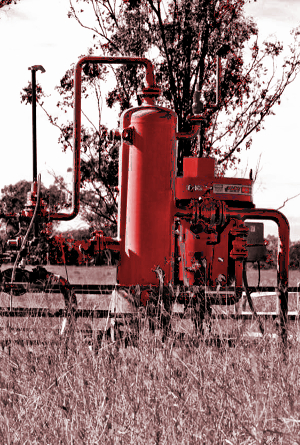 Industry Minister Ian Macfarlane says the NSW government should share gas royalties with landowners, but that he would die before creating a domestic reservation.
Macfarlane made the comments in an address to the Committee for the Economic Development of Australia conference in Canberra this week.
He said it works in Queensland, where 4500 farmers in partnership with CSG companies have seen $60 billion invested and 30,000 people working in the industry.
"Part of the way to solve the issue is to incentivise those people who are inconvenienced by it," Mr Macfarlane said.
The call comes as demands continue for a domestic gas reservation to be set up.
As massive gas exports continue to take from supplies for NSW and other states, some say a small portion of the gas flowing overseas should be kept for Australian use.
Proponents argue that a domestic gas reservation would drive down energy costs for virtually all households, as well as for manufacturing and other industries too.
"In terms of gas reservation, read my lips: over my dead body," Minister for Industry Ian Macfarlane said.
Meanwhile, petitions have been handed to NSW parliament from community members concerned about the approvals process for coal and coal seam gas extraction.
"Mining in the north-west region simultaneously threatens our most productive farmland and most significant bush land," the petition said.
When it was handed to the Government it had over 11,000 signatures.
"If allowed to continue as planned it will permanently degrade both our productive and ecological base and forever change the nature of our rural communities," the document states.
It calls for reform to protect larger areas of farming and bush land, water supplies and aquifers. It also demands new abilities for farmers to say no to coal and gas developments on their land.
The petitioners want the Government to take new scientific information into account when assessing risks to water supply, human health, flora and fauna. Finally, it calls for a better monitoring and compliance regime for mining and gas activities.
Locals say there is not enough "unbiased scientific data available" for coal and CSG to continue safely, and that the potential for damage to farmland and water resources is too great to trade for temporary gains.
Some supporters say the petition is aimed at the Nationals part of the Liberal-National Coalition.
One member of the North West Alliance said the lack of understanding of farmers was a "blindspot in the National Party".
NSW Water Minister and Member for Barwon, Kevin Humphries, said in a statement given to rural press The Land that he is aware of the worries.
"Both my staff and I have met with landholders, industry representatives and a range of community groups such as the North West Alliance on many occasions and I have heard a wide range of opinion," he said.
"The message I have most often heard is that people are not opposed to mining activity as long as it is done in a safe and sustainable way that will not damage the area's water resources."
"No government has done more than the Liberal-Nationals government to protect our water resources," Humphries earlier said in lower house discussions.
"Water is the lifeblood of our State's diverse regional communities, industries and economies."