Wave tests successful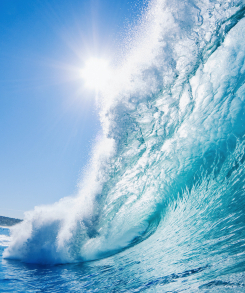 Trials of a wave energy generator off Tasmania have been dubbed "a huge success".
Australia could soon use the ocean to power homes after an innovative device off King Island proved successful in generating energy.
A unit produced by Melbourne company Wave Swell Energy has been generating power for the island's local energy grid for the past year.
Wave Swell's Uni Wave generator uses an 'oscillating water column', effectively creating an artificial blowhole charged by a chamber beneath the waterline.
The system deployed at King Island is able to supply up to 200 kW of power to the microgrid around the clock, complementing the wind and solar power already installed and reducing reliance on the island's diesel generators.
Wave Swell believes future commercial scale units will likely have a capacity of around 1 MW, but could reach as large as 3 MW.
"It's a huge success from our point of view," says King Island mayor Julie Arnold said.
"It's providing power for the island, it's renewable, it's a method that could be used in other places so we're very happy to be pioneering it.
"We're a community that does look at our environment every day, certainly with a lot of what's going on around the world, I think more and more importance is being placed on environmentally sustainable ways to provide power."
Unlike other wave generators that capture energy from the sea floor, surface, or somewhere in between, the Uni Wave is capable of capturing all the energy throughout the water column, from surface to seabed. This improves the device's conversion efficiency, which reduces the cost of energy produced.
Being situated in the shallows also provides comparative ease of access, aiding maintenance which flows through to improved reliability.
By not having any moving parts in the water, Wave Swell's design is also better able to withstand the harsh marine environment, which has historically proven a major challenge for wave power technologies.
More details on the trial are accessible here.